Home > E-commerce Payments > Virtual Terminal
Accept Credit Cards with a Virtual Terminal
Use your computer, tablet or smartphone to process credit cards.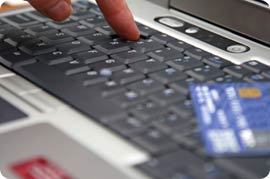 A virtual terminal is a secure web page that lets you process
credit card transactions
.
You log into your virtual terminal using a regular web browser. Type in the credit card number, the amount and customer name, and then hit the submit button. The payment is completely secure and you capture the funds instantly.
Everything about the virtual terminal is simple and efficient. If you would like an email receipt to be automatically delivered to your customer then you have the option of including the customer email address (and other order information if desired). Take a look at the screen shot below to see just how simple the virtual terminal is to use:
Click for larger image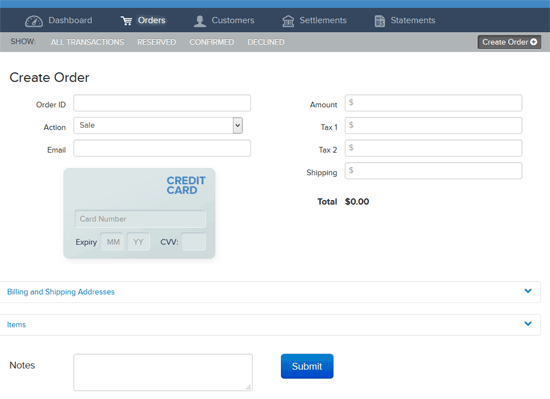 Huge cost savings when taking orders over the phone.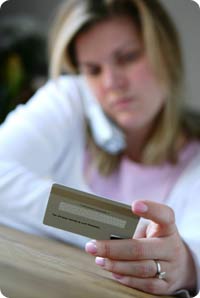 Specialized hardware (POS machines) used to be required to process credit card transactions. POS hardware is costly, bulky and only efficient if the customer is physically present with their credit card. It was originally designed for a traditional retail (storefront) setting.
The physical inconvenience of having to manually key orders into a POS machine is not a serious problem. The significant problem is cost. If a merchant receives a POS machine they are expected to physically swipe or insert the card, and collect a customer signature or enter their pin number. If this does not happen the merchant is most often penalized with a "non-qualified" surcharge. A "non-qualified" surcharge simply means that the processor is charging you more because you did not physically have the card present when running the order. It's an outdated model that should not be applied to businesses that take orders in any situation where the card is not physically present.
With a virtual terminal you are
expected
to key in the order. There are never any surcharges or 'non-qualified' fees simply because the customer was not physically present with their credit card. This can lead to a tremendous cost savings to businesses that have been running transactions for phone based orders through a POS machine.
Eliminate Hardware Costs
You save even more with a virtual terminal because you do not need to buy any special hardware. You just use your existing computer, tablet or smartphone. POS hardware is costly to make, and these costs are passed onto merchants. By eliminating the hardware we can eliminate the cost associated with it. A virtual terminal is by far the most cost-effective way to begin accepting credit card payments.
Use your iPhone, Android phone, BlackBerry or tablet to process payments anywhere.
One of the biggest advantages of a virtual terminal is that you can use it to process transactions anywhere. As long as you have an internet connection you will be able to securely process credit cards anywhere and at any time. In addition to a traditional computer or laptop, you can also use your iPhone, BlackBerry or Android phone. In fact, you can use any type of mobile device on the planet. As long as you have internet access you will be able to process credit card transactions from anywhere.
It is very useful for travelling sales people who are working with potential clients remotely and need an easy way to immediately capture the sale by collecting payment on the spot.
Another common application for the virtual terminal is use at trade shows, flea markets or other situations in which a traditional wired connection is not available. Because every modern mobile phone, tablet and laptop has an internet connection available at any time, you can use your mobile device to process transactions from anywhere.
A better choice in an office environment.
One of the problems with POS hardware is your employees need to use it one at a time. If you have multiple employees or locations you need a number of POS machines. With the virtual terminal this is no longer the case.
With a virtual terminal you can handle all of your customer billing through one account. Because it's a web page every employee with a computer can have access to it, from as many different locations as you'd like. You will no longer need multiple accounts or POS machines for each different location. A single virtual terminal can have multiple user ID's, and can be used company wide.
Advanced Security for Card-Not-Present Transactions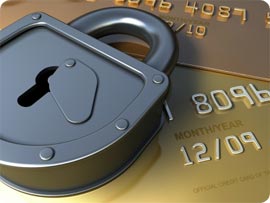 When taking a payment in which your customer is not physically present you will want to employ every tool available in order to ensure that it is a secure transaction.
The virtual terminal supports some of the most
advanced fraud screening tools
available. These tools help to ensure that greatest level of security when performing a credit card transaction in which the customer is not physically present.
Support For Refunds, Pre-authorizations, and Recurring Billing
The virtual terminal provides highly advanced functionality. Every type of transaction is supported including pre-authorizations, real time transactions, full and partial refunds, and even recurring billing.
With the recurring billing service you can automatically charge a customer in any amount, on any billing period you desire. You don't need to store any credit card information in order to do it. Our payment server will store all of the sensitive information and simply send you a transaction report each day for your accounting purposes. This is great for businesses that have a subscription model and want to automate the recurring billing of customers, without having to store sensitive cardholder data. You are also able to do subsequent or 1-off additional payments to any customer that you have billed previously.
Getting Started with the Virtual Terminal
Click below to view pricing and submit an application for your business. Do not hesitate to
contact us
if you have any questions.