EasyInvoice is Free
Adding a payment payment page to your website is completely free. You use the code generator to generate a snippet of HTML code. Paste it on your website and you are done. Even though it's just a simple copy and paste job, if you don't want to do it yourself we'll create the payment page for you and host it on our server for free.
It's also worth noting that if you don't want the customer to submit payments online but prefer to take orders over the phone and key them in yourself you could look at our virtual terminal solution.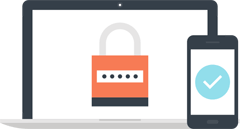 EasyInvoice Is Secure
EasyInvoice has been specifically designed so that the payment server directly handles all of the sensitive credit card information. You will never touch, see or store credit card information.
The only part that you collect on your website is the customer name, the amount, and the order reference number. All of the sensitive information is collected when the customer is seamlessly forwarded to the secure payment gateway. This all happens automatically (no programming needed). The customer cannot tell they've temporarily left your website. As soon as a payment is submitted you get the funds and a payment notification by email with a reference number for the transaction, but your systems didn't touch any sensitive cardholder data whatsoever during the process.
How Do I Get Started?
The first step is to be approved for your merchant account. Once approved, you can use the code generator below to create the code snippet for your website.