Merchant accounts for any global payment currency.
You can collect payments from customers all over the world in any currency of your choice. You receive everything needed to accept credit cards online and by phone. We include both the merchant account and secure payment gateway together as a bundled solution. You will be able to connect your website to the payment gateway with your own custom integration, or by using one of over a hundred already compatible 3rd party shopping carts.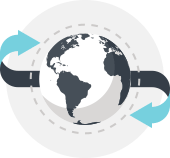 By including both the merchant account and payment gateway together as an integrated solution, it provides access to everything you need to accept credit cards under one roof. This helps make the process of implementing an e-commerce based credit card processing solution on your website much easier, and reduces the possibility of running into unexpected costs or technical issues.
While it's true that Canadian merchant accounts have historically been harder to establish than US based merchant accounts (especially for online payment processing), we've been providing e-commerce based credit card processing services for over 15 years. This expertise enables us to guide our clients effectively through the process of implementing a new payment processing platform. We were Canada's first provider of multi-currency capable payment processing solutions, and 15 years later are by a wide margin Canada's most qualified experts in this field today.
We would like to hear about your project.
Contact us
with any questions you may have.