Credit card processing for Canadian, US and international businesses.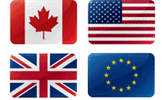 You'll receive everything needed to process credit cards online. This includes e-commerce processing for your website, a virtual terminal so you can collect credit cards by phone (process them using your computer), online invoice payments, and recurring billing payments.
It's a one-stop solution with complete coverage of all possible ways to process credit cards.
USD, GBP, EUR? Exotic currencies? Not a problem!

If you need to process credit cards in USD or foreign currencies but are incurring currency conversion fees we can help.
We have, by far and away, the most expertise in Canada in the field of multi-currency processing. Since the requirements for multi-currency processing are very specific for each business, we encourage you to contact us to discuss your situation.
Why does the merchant account make such a big difference in terms of processing costs?
The merchant account is what determines the rates that you pay for each transaction processed. If you have high credit card processing costs, then you need to find a lower cost merchant account provider. (Our low rates are something we take great pride in!)
What is a merchant account?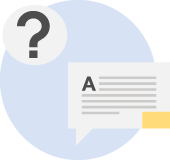 A merchant account is required in order to process credit card transactions. It's a special type of bank account that receives and holds funds from credit card sales. It's also the most important aspect of credit card processing from a pricing perspective.
How does a merchant account work?
For a little more understanding, we can focus on the transaction flow. Many people tend not to think about the mechanics of how payments work, or how money moves from one person to another. That is where the merchant account comes in. Each time you ask a customer to pay, money must move from their Visa or Mastercard to your business. For each order processed, the funds are transferred from the cardholders account and deposited into your merchant account. From there, the funds are transferred into your regular business bank account on a daily or weekly basis. You can think of it as the banking component of the transaction, and is one of the two critical components that make up a credit card transaction.
What is a payment gateway?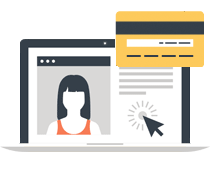 We also provide you with a payment gateway, which is the second component of a credit card processing solution. Where the merchant account is used to receive and hold money, the payment gateway is how you go about asking the card issuing bank to approve a transaction. An e-commerce website will send transaction requests to a payment gateway. It sounds complicated, but it's just the technical "thing" that you use, or that your website integrates into, in order to make transaction requests.
We include the merchant account, and the payment gateway, which together are a complete solution with everything needed to process credit cards. (In some cases you may have a preferred 3rd party gateway such as Authorize.net, which we can support as well).
Choose your preferred payment gateway.
We include the merchant account and payment gateway together as a bundled solution because it's everything you need to process payments. However, some merchants use specific software that requires a certain type of special integration. That's why we also support many popular payment gateway options such as Authorize.net. If you already have an existing or preferred gateway integration it shouldn't pose a problem. This helps to make implementing or migrating your payments to our processing service much easier because it reduces the possibility of technical or compatibility issues.
Quick and easy approval of your merchant account application.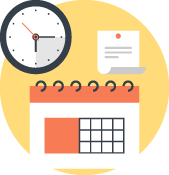 You can be approved to begin processing in less than a week. We've worked with thousands of merchants in Canada over the past 20 years and have refined our application process to be as easy as possible.
You'll receive end-to-end support with a dedicated account manager as a central point of contact for help on any issue. Migrating to a new payment processor shouldn't have to be a challenge, and your dedicated representative will ensure the process is as easy and stress free as possible.
Payment processing with simple and honest pricing.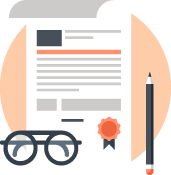 It's our belief that pricing should be simple, honest and easy to understand. We work constantly to educate merchants about interchange and are huge advocates for honest pricing. This is the foundational belief of our business, it's in our mission statement, and has remained that way since we first started providing merchant services more than 20 years ago.
If you have questions about discount rates, interchange, cross border fees, currency or foreign exchange fees (or anything related to the costs associated with online payments) don't hesitate to contact us.
What's involved? How do I set it up?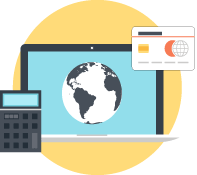 It's easy to accept credit cards. Start by reviewing our rates to determine which package is best for you, and then submit your application form online. When your application is received a review will be completed within a few business days. Upon completion of the review you'll receive an email with your account credentials and access to the payment system.
At that point you'll have access to the virtual terminal and can begin processing orders. If you have an online business you'll also be able to integrate your website to enable e-commerce payments.
Need Help? Just try to stump us!
Most important of all, remember that we're here to help. We realize that implementing credit card payments on an e-commerce website can seem overwhelming. There are no bad or silly questions. Whether you're in the planning stages to find a simple credit card processing solution in Canada, or are researching to find a complex multi-currency / cross border payments solution and need advice, don't hesitate to contact us with any questions you have.
View Rates
We proudly publish our rates on our website. There are no hidden fees.