Home > News and Blog
January 18, 2012
by
David Goodale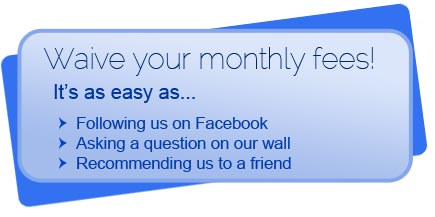 How do I participate?
You can enter once for each monthly drawing. Simply do is any
one
of the following:
1)
Follow us on Facebook.



You don't need to do anything other than press the Facebook "Like" button. We'll track the addition and automatically enter you into the monthly draw. (or)
2)
Recommend us to a friend on Facebook. (That person will follow us on Facebook). If you do this you just need to let us know the name of the person you recommended us to. (or)
3)
Post an e-commerce related question or comment on our Facebook wall. Tracking is automatic - simply interact with us (question, comment, any discussion on our wall) and you will have a chance of winning.
Why are you doing this?
We commonly encourage our clients to research new ways to attract and interact with their customers. With this in mind, it's important to understand that we practice what we preach!
Social marketing and interaction is an important avenue of staying in touch with our clients. In our industry it can be a challenge because (lets be honest here) credit card processing services are not always the most exciting topic of discussion.
However, we really are good at e-commerce and helping merchants take their business online. Most of our clients are passionate about what they do. This is an opportunity for clients to talk to us, spread the word, and discuss fresh ideas and ways for online businesses to build credibility and create buzz.
In addition to winning a free month of service, you may just find yourself receiving some insightful and useful information!
The fine print?
This is a very straight forward promotion, without any fine print. Follow us on Facebook, interact a little, learn a little, and win the chance to waive your monthly fee for a month. You can enter once each month.
How do I enter the draw?
It's easy! Just follow the
instructions above
. If you are already following us on Facebook then ask us a question or discuss anything e-commerce related on our wall. It can be about anything from experience with Google adwords, selecting a web host, what to watch out for when hiring a web developer -- anything constructive that is in some way related to e-commerce.
Learn How To Lower Your Credit Card Processing Fees
If you haven't reviewed your processing costs in a while take a moment to view our rates.
View Rates