Home > News and Blog
January 7, 2014
by
David Goodale
VP-ASP Shopping Cart Review

VP-ASP is an extremely deep, feature rich open source shopping cart built for the Microsoft IIS server platform.
It is intended for business owners and webmasters with a moderate level of technical skill that are looking for a flexible platform that is relatively quick to roll out, and highly customizable.
One of the first things you will notice is that VP-ASP is loaded with options. Admittedly, we can only scratch the surface of this software. When you set out to get started the first choice you will have to make is which version and flavor of the software is right for you.
Which version of the cart is right for me?
There are 3 different versions of the cart to meet the needs of startups, growing, and complex online businesses respectively. The basic version ($295) is suitable for most small businesses and includes the vast majority of functionality you would find in most modern shopping carts. The middle package priced at $495 is quite a feature rich platform and includes additional features such as SEO functionality, real time / digital content delivery and coupon codes. The most advanced package ($795) is slam packed with even more features such as gift registry, customer loyalty points, etc. I expect many users would find the intermediate version of the cart more than capable for most day to day requirements, although it's nice to know that a deluxe version is available that includes nearly every conceivable feature a shopping cart can offer.
Choosing the right platform is an important choice, but not mission critical because of VP-ASP's upgrade policy, they allow you to simply pay the difference between the lower and higher package if you decide you need more features. Once you have figured out correct version of the cart for you, it's time to decide if you want to buy it outright or pay a monthly licensing fee.
Should I buy the software outright, or pay a monthly subscription?
One of biggest advantages with a cart like VP-ASP is that you can choose to purchase it outright without any ongoing fees. If you go this route you will be purchasing the software, downloading it, and installing it on your own server.
By doing this you will have complete control over the software and the ability to edit any part of the code. In other words, you have the capability for virtually unlimited custom functionality. One of the obvious downsides to purchasing the software outright is the upfront cost is much more expensive than licensing it monthly. You will also need to go through the actual step of setting it and configuring it on your IIS webserver.
As opposed to purchasing the software outright, users have the option to instead purchase a monthly subscription that includes hosting of the shopping cart software for you. There are 3 options to choose from on the monthly subscription model that match exactly to the functionality of the 3 purchased (owned) versions described above.
With the monthly licensed version (called the "all in one e-commerce solution") you won't have to install anything. The cart is setup, configured and ready to go. You just need to start adding products, configuring the tax logic and designing your store. One of the advantages to the monthly license is that you are guaranteed to always be running the latest and greatest version of the software for no extra charge. You don't have to worry about security patches, backups or downtime, because it is the responsibility of VP-ASP to keep it up and running. It is also much less expensive to setup because you are not buying the software outright. The only primary drawback of the monthly licensed version is that you will have to pay the monthly fee on an ongoing basis for as long as you maintain your storefront.
There is also a 3rd option, that is a combination of the two. VP-ASP offers hosting packages for the owned (downloaded) version of the store. The idea is that you might want to have the owned version, with no more ongoing fees for the software, but not have the ideal hosting environment for it. If you choose one of the E-commerce Hosting packages for the owned version of the software (ranging from $19 - 49/month) then you can still own the software outright, and have it run on a server environment that you know is suitable to run VP-ASP. For clarity, this is very different from the monthly licensed version because you would still be responsible for patches, upgrades, etc. With the monthly licensed version all of that is provided for free.
As a business owner you will need to decide if the much lower startup cost, and the benefit of not having to worry about uptime or upgrading offset the advantage of purchasing the software outright. As an important additional note to this the folks at VP-ASP have tried to make sure that as a business owner you can't make a "wrong" choice. If you start out on the monthly licensed version and would prefer to eliminate the ongoing costs, after 12 months you can purchase the owned version of the software for a 50% discount.
Rolling up our sleeves - Cart Interface
The administrative interface is well laid out and separated into logically organized sections. Unlike some shopping carts that guide you through the setup process with a wizard or step by step guide, VP-ASP puts you into the dashboard and lets you begin customizing the cart in any area you prefer.
I started by doing what most people are going to begin with, which is adding a few products to the cart to get the feel for how it works. This is where you get the first taste of how deep of a cart VP-ASP is.
Normally, when adding a product to a shopping cart there are a few basic fields, namely the description, price, images and options (like color). VP-ASP is tremendously deep at the product level. For example, certain products can be assigned to specific drop-shippers so that when you are reconciling your orders you can easily blast away your to-ship list to each drop shipper automatically. It supports per-item tax override, per-item shipping override, inventory management on a per-item basis, and many more features than can be explored in this review. Suffice to say that the depth of product detail is stunning. A webmaster would be hard pressed to find a feature lacking from the product database.
However, one of the challenges is that the deeper a software is, the more complex it is to use. (To any readers with a background in graphic design, think of the first time you used photoshop). VP-ASP is certainly not "photoshop complex", but it has a dizzying range of options. It is worth noting that every single input field on the page has a tooltip assigned to it, so help is literally available for every field on the page. Furthermore, there is a summary description of all of the configuration options at the bottom of every single page. Finally, there is tremendous amount of information in the setup and support documentation. This help content is searchable from every page of the control panel. It's clear the folks at VP-ASP have put a tremendous amount of work into answering questions providing merchants with adequate support documentation. There is no avoiding the simple fact that when you pack this many features into a cart it is more involved to setup than a basic wizard driven cart. New users would find it a wise investment to spend some time glancing over the support documentation and watching a few of the helpful "how-to" videos before getting started.
What is Support Like?
Readers of my shopping cart reviews will know that I believe support is one of the most critical aspects of any shopping cart platform. Having every feature imaginable isn't going to do any good if you can't figure out how to take advantage of them. In this department I would say that VP-ASP is doing a good job.
It's worth noting that VP-ASP does not offer telephone based technical support, however in all cases when I sent in a ticket I received a very prompt response.
One of the challenges any software vendor has when of offering a license that enables a user to own it outright for life with no ongoing fees is the cost of supporting that customer on an ongoing basis. For that reason VP-ASP has 2 models of support. Merchants using the monthly subscription version of VP-ASP receive free unlimited support. Merchants that opt to purchase the software outright receive 100 free support points. This is more than enough to get the software installed, configured and working. Support points do not expire, and are deducted on a per case basis. 50 additional support points can be purchased for $100. Unused support points expire after 12 months.
Adding and Updating Products
Adding products in VP-ASP is an easy task to accomplish using the store administration system. It is much the same as any other shopping cart software. However, it is worth noting that VP-ASP has more product options than the typical cart.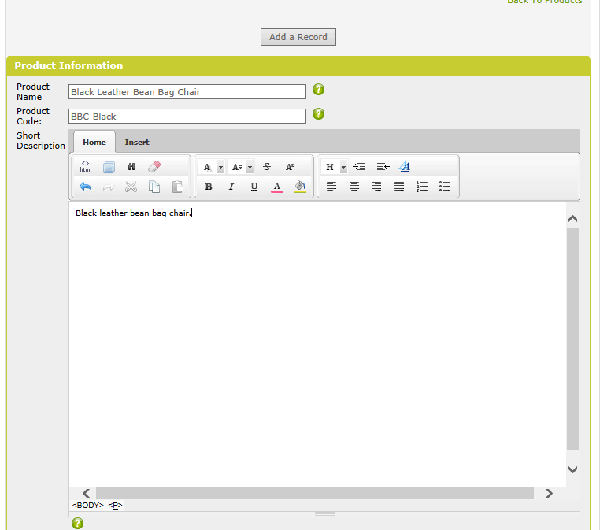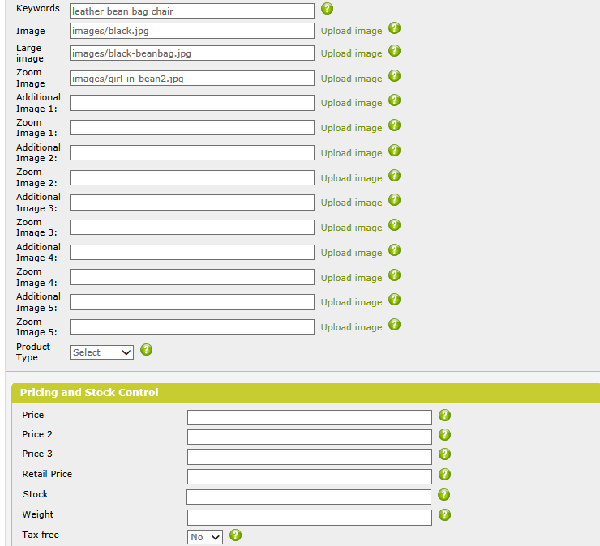 VP-ASP is a category driven shopping cart. When creating a product you must assign it to a category. The basic job of adding a product is simple. Each product can have up to 5 zoomable high resolution images, product options such as color or size, and both a short (summary view) and detailed (catalog page view) product description. You also have the ability to embed YouTube videos or flash content, all of which is fairly standard fare for a modern shopping cart. The interface for adding product content is quite streamlined and polished, including simple but nice features such as a built-in spell check within the web browser for when typing the description.
Basic functionality aside, this is where a savvy webmaster can get more complicated. On a per-item basis the cart can support a huge range of options such as suggested retail pricing, coupon codes, customer rewards points, suggested related products, custom user fields, etc.
In fact, it is almost impossible to cover all of the product options that are available in VP-ASP. It should suffice to say that in terms of product options VP-ASP should be able to easily handle any run-of the mill (or even not-so run of the mill) shopping cart feature requirements.
One seemingly small but highly desirable feature is the 'Bulk Update' that will enable you to update multiple products at a time. You can adjust the product code, the name, and most importantly price of up to 100 products at a time. This feature will be desirable for merchants that sell products which require frequent price revisions / updates.
Another very important feature is support for product database import and export. As a rule of thumb, if you have a large product catalog, having the ability to backup and export your product catalog is near mission-critical. If you do not have this feature it means that you cannot ever leave your shopping cart platform, and if it ever goes down you will be back at square one rebuilding your catalog over again.
Flexibility of Design
VP-ASP is a template driven shopping cart system. The default template is a standard, clean interface without a lot of clutter. Additional templates are available at a cost of $95. As with most template based carts, it's usually easier to find a template you like and work from that, as opposed to modify the default template from scratch. Additional templates are professionally designed and cost $95.
Each template is customizable through the Layout Manager (which lets you arrange items on the page) and the Template / CSS Manager (which lets you actually edit the design of the template itself). It's worth noting that detailed editing of a template will require a knowledge of HTML and CSS. It is fully possible to edit a template in any way desired, but finding the appropriate module or CSS item to edit can be a task. If you are a hands-on type webmaster, and plan to be customizing your store to a significant degree it is worth doing all the customizations on your own. This will help you to learn the file and module structure. If you are particular about your design and do not want to use a template but match an exact graphic design, it may make sense to to hire VP-ASP to modify the design of the template for you.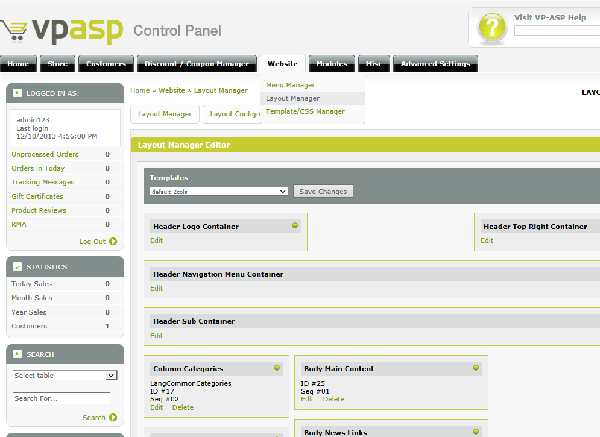 I found editing the home page easy and intuitive. However, in my testing I was uploading an image that was being forcibly resized, even though I wanted the larger image to show up. Depending on your level of granularity of control, you may want to edit some of the templates in order to achieve total control over the design of your pages.
In terms of design and interface, VP-ASP has very attractive usable templates that will meet the needs of the vast majority of online merchants. If you have a particular design that you are after VP-ASP can almost certainly be customized for exactly the look that you want, however, it may require a bit of tinkering under the hood and is best left to experienced webmasters, or just hire the folks at VP-ASP to do it for you.
Website Administration and Content Features
VP-ASP functionality extends past that of a basic shopping cart and includes CMS functionality. There is are 3 separate areas of the control panel dedicated to building and displaying content in various areas of the website. The Page Manager lets you create static HTML content pages. These pages can be linked to from various areas of your store (such as the main navigation menu). The Blog Manager lets you create blog content, and the News Manger lets you add updates to the news area of the website.
Adding content to the website is easy, although I found that it took a little bit of experimentation to figure out how to first create a page (using the Page Manager), and then link to it from the navigation menu (from the Menu Manager). The feature is targeted at making it easier for non-webmasters to easy to add content and publish it to the website.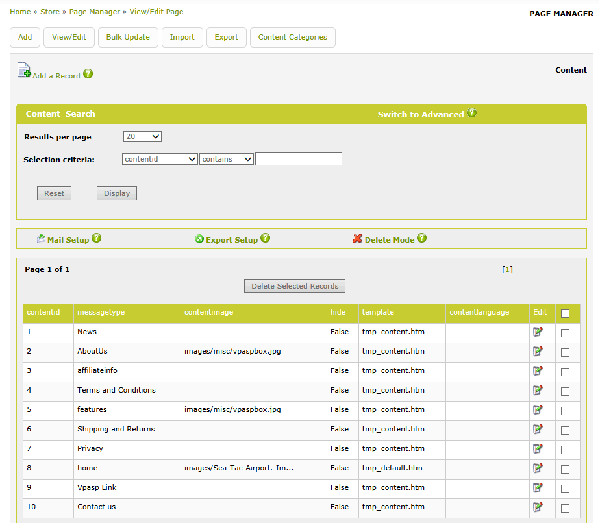 Search Engine Friendliness
VP-ASP provides the ability to provide custom page title, description and meta information. This is important, albeit basic SEO functionality for a modern shopping cart. The basic version of the cart uses a traditional query string based approach when rendering pages in the web browser. This will prevent keywords from appearing in the URL for various products. It will look something like:
www.youstore.com/shopexd.asp?id=25 (Undesirable from a search engine optimization standpoint.)
VP-ASP includes a SEO tookit that is included with the more deluxe versions of the cart, or, if you have the basic version can be purchased for $195. The SEO toolkit enables you to specify a specific URL when creating each product. (Like www.yourstore.com/shoes/redBasketballShoes/) This enables you to have more descriptive URL's when creating your products, and should have a positive impact on your organic search listings. The SEO toolkit also supports Google product feed and other SEO related features.
If SEO is an important aspect of your marketing approach I would strongly suggest purchasing a version of VP-ASP that includes the SEO toolkit, or purchase it as an add-on if you are opting for one of the more basic versions.
Other Features
VP-ASP is packed and stacked with features. It would be well beyond the scope of this review to touch on all the various features built into VP-ASP. It's better to just give a broad stroke overview of the various capabilities the platform offers:
| | | |
| --- | --- | --- |
| - | | WYSIWG CMS for content and blog editing. |
| - | | Inventory management on a product-by-product basis. |
| - | | Flexible tax logic, including tax free exception logic on a product-by-product basis |
| - | | Drop shipping support so you can assign certain products to be automatically assigned to different drop shippers (to expedite orders after processing) |
| - | | Support for digital downloads access upon approved transaction. |
| - | | Dynamic translation of pages into multiple currencies. |
| - | | Suggested items displayed to customers while browsing. |
| - | | Coupon codes, quantity discounts and customer rewards points. |
| - | | Support for multiple payment gateways |
| - | | Real time shipping support: UPS, FedEx, etc. |
| - | | Affiliate tracking |
| - | | RMA tracking |
| - | | Gift registry |
There are more features than you can shake a stick at. For a full overview of the various features surf over to the VP-ASP product comparison. This chart is to help potential users of VP-ASP to determine the version that is right for you.
http://www.vpasp.com/virtprog/vpaspcompareversions.htm
Shipping Logic
Shipping logic with VP-ASP can be as simple or complex as you would like it to be. The cart supports real time shipping quotes from almost all popular couriers including USPS, FedEx, UPS, Canada Post, etc.
If you prefer to stay away from real time shipping the logic can be configured by destination, weight, quantity, subtotal, and other common criteria, including a combination of any of the above.
In addition, the cart is able to support free shipping logic that can be applied on an item-by-item basis. That way, if you have a store with both physical goods and digital goods, you can make the digital goods have no shipping fees.
Tax Logic
The tax logic was easy to configure once I found the appropriate area of the control panel in which to edit the fields. This was one area that I had to refer to the help documentation in order to get it going. The tax logic is under the Advanced Settings -> International menu. I thought that it would have made more sense for this menu item to refer to make some mention of tax since this is one of the most important configuration aspects of any shopping cart software.
The basic tax logic is applied at a per-country basis. If you want to apply different tax rates to different provinces you must configure the cart to do so. (Most Canadian merchants will want to do this). At first I was stymied in terms of how to do this, but a quick support ticket got me to a speedy answer.
The tax logic is flexible, and once I was able to understand how to implement it on a province by province basis the configuration of it went smoothly. It's worth noting that custom tax free logic is capable on a product-by-product basis (when creating the product in the database) that can override the default tax logic. This is good if you have items that may be taxable at a different rate than other items in your store.
Multiple Currencies
VP-ASP has the ability to display prices in multiple currencies. Every product has a set base currency. For example, you might have an umbrella, and that umbrella costs $100 USD. If you have the multi-currency module enabled you can use a table of exchange rates to display items in other currencies. For example, if your website visitor is in Europe they can choose to display all prices in Euros. It's important to note that this functionality is to aid in navigation only. When the user actually completes the purchase they are billed in the base currency (in my example above $100 USD). However, because VP-ASP can be edited, if you work with a multi-currency gateway it would be possible to modify the integration to charge the customer directly in their local currency. True multi-currency processing is possible with VP-ASP (actually billing cardholders in their local currency) but the cart will require manual editing in order to do so.
Comments, Compliments and Criticisms
VP-ASP is a tremendously deep cart. It is a serious choice, and is well suited for intermediate to advanced user that want the potential to use advanced functions, do custom edits, as well as the benefit of owing the software outright and running it from your own local servers.
The most basic of users (startups and folks running side / hobby businesses) may find it intimidating. The software is well organized and thoughtfully arranged, but the sheer amount of features and functionality does require a bit of learning curve. This is not the easiest to use shopping cart software on the market, but that is a necessary concession that must be made in order to have a cart that is this deeply editable, especially in terms of supporting custom functionality.
That is not to say that VP-ASP is a bad choice for someone setting up their first online store, but it is more of an investment than some of the simpler hosted cart offerings. For new users it will take a bit of time to learn the content management and various advanced features of the cart. In the short term, it will probably make sense for novice users to use the basic fields, and then when you need certain functionality, (for example inventory management) come back to the product and enable whatever extra features you desire.
In reviewing the cart it is obvious that this software has evolved over time. The sheer number of features makes it appear that the authors have been addressing user requests for updates consistently over a lengthy period of time.
One criticism I would make is that the tax logic is a little harder to find than I would have liked, and I felt the process to enable different provincial tax rates was more complicated than necessary. However, VP-ASP can likely handle more complicated tax requirements than the average cart, and again is probably a bit of a tradeoff for advanced functionality at the cost of a simpler interface.
In terms of support I do not normally suggest carts that provide only email based support. However, in dealing with my criticism of tax logic configuration I had to reach out to VP-ASP support. The tickets were always responded to quickly. Aside from the tax logic question, I had no significant problem at any point in setting up or using the cart. In a matter of hours (under 10) I was able to setup a simple online e-commerce store that could have been published live and ready to take orders.
Summary
VP-ASP is not the right cart for every user, but is a particularly good choice for intermediate to advanced webmasters. It's a particularly appropriate choice for those that want a shopping cart to run on their own server hardware, or want the ability to edit the code for custom functionality. If you are considering using VP-ASP it is imperative that you surf over to
www.vpasp.com
and setup a free test account. It is only by trying the software out yourself and putting it through the gears that you will know if it is the right choice for you. VP-ASP is best summarized as a shopping cart software that you will invest in: the more effort you put into it, into learning it, and into making it yours, the more you will get out of it.
Learn How To Lower Your Credit Card Processing Fees
If you haven't reviewed your processing costs in a while take a moment to view our rates.
View Rates