Home > News and Blog
January 22, 2014
by
Cameron Wilson
How to choose the right shopping cart software for an e-commerce website.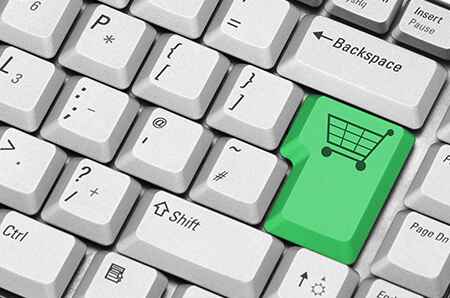 There are hundreds of shopping cart software providers out there to choose from and the prospect of picking one can seem very daunting to someone who is just starting their online business. All shopping carts have the same basic functionality, such as building a list of products to purchase, calculating applicable taxes and shipping, and sending the total amount to your gateway and merchant account provider for processing. But they also differentiate themselves by offering all sorts of ancillary features that can be beneficial to you and your business.
In this article I will help you choose a great shopping cart for your business by showing how to narrow down the list of carts to ones that meet your specific criteria. This can be done quite easily just by splitting the carts into different categories based on their unique characteristics and the unique requirements of your specific business.
If you're reading this article you have probably just started the application process for a merchant account and gateway with us. If you haven't yet,
what are you waiting for?
Is it compatible?
The first and most important thing to consider when selecting a shopping cart is compatibility. You will definitely want to pick a cart that is compatible with the payment gateway that we are using for your account. We have the capability to utilize a number of different gateways depending on the requirements of any given merchant, so if you are not sure yet which gateway you will be using, be sure to contact us to find out.
Sometimes it is possible to make modifications to a cart that is not compatible, but this generally requires programming expertise and knowledge of a carts inner workings. If you have to hire a programmer to handle this for you, it might be more worthwhile to just pick a cart that is natively compatible or at least has a downloadable module that adds compatibility as it is probably going to cost less that way.
Before we can begin narrowing down carts to determine which one is best for you, let's examine the list of options. There is a list of compatible shopping carts on our website which is located here. New carts are constantly being added, and it's difficult to keep the list up to date. If you are considering a shopping cart that doesn't appear on our list, contact us to ask if they are compatible. It's entirely possible the cart is compatible and the list has not yet been updated.
Hosted or not hosted?
All shopping carts can be divided into two different categories, locally hosted and remotely-hosted. A quick way to eliminate a lot of carts from your list right off the bat is to choose if you would rather install and host the shopping cart locally on your own webserver, or utilize a remotely hosted shopping cart where the hosting of your online storefront is actually done by your shopping cart provider.
Remotely hosted shopping carts are usually offered with a number of different pricing plans. In most cases the lower cost solutions offer a smaller number of product listings, less bandwidth for website traffic, and in some cases a reduced feature set when compared with the more expensive plans.
Administration of a remotely hosted shopping cart is done through a web based control panel. In your control panel (also often called a dashboard), you can customize the look of your cart by selecting from a list of premade templates. In some cases there are custom templates available to purchase for a one-time fee. With remotely hosted carts your customization options are limited to whatever the control panel allows. Some remotely hosted shopping carts allow for tremendous flexibility whereas others are more rigid in terms of what can be done. However, it's important to understand that when using a remotely hosted shopping cart you must live within their framework. If a high degree of customization and flexibility is important to you, it means that you must be careful when selecting your remotely hosted shopping cart platform.
Another important benefit that is very much worth mentioning is related to updates and security. Whenever the shopping cart software is updated, because it is the shopping cart provider that actually hosts the platform on their own servers, it means that you most likely are not responsible for updates or patches and will automatically always be running the latest and greatest version of the software.
Locally hosted shopping carts are downloaded and installed directly on to your own web server. This means you need to maintain your own web server. Some locally hosted carts are open source and are offered free of charge, while others are sold as a one-time fixed price purchase. With the free carts support may be difficult to obtain if you run into problems and you may be limited to using public forums to get help (which may not be timely). In general, open source options are good for businesses with tech savvy owners, or those that have technical resource available to them. Commercial locally hosted shopping cart offerings will almost always provide better support when compared to an open source offering. When purchasing a locally hosted shopping cart you will often find that customer support is included for the first year. In some cases they also include installation services so that you do not need to actually install it on your webserver. In some cases locally hosted shopping carts sell additional support points that can be purchased for additional support, premium support, and non-standard requests such as customizing the look and feel of your page.
Updates for locally hosted shopping carts are something to consider. Some shopping carts provide free updates, others provide free updates for a period of time (like a year), others do not include any updates. It's important to note that updates to a locally hosted cart will in most cases need to be applied manually. That's not to imply that it is in any way difficult, but because the software is installed on your own server (and is not hosted directly by the shopping cart provider) you will need to remember that it is your responsibility to keep your cart patched and updated.
Pros and Cons
Remotely Hosted Shopping Carts:
Pros:
The best thing about hosted carts is that all of the setup and configuration of the shopping cart software is taken care of for you. You don't have to worry about updates, security patches, etc. You don't need to setup your own web server through a 3rd party provider ad the hosted cart provider. If you aren't very technically savvy or if you don't have a good web developer working for you, a hosted shopping cart solution is probably the best choice as all the technical issues are taken care of for you so you can spend your time focusing on your business. PCI compliance is generally much easier to achieve with hosted carts since they handle the customer card info on their own servers which should already be PCI compliant.
In a nutshell: Hosted shopping carts are quick and easy to setup and support is there whenever you need it.
Cons:
The biggest con for hosted carts is that they offer less flexibility when compared to a locally hosted cart. You may have some different template / skins to work with and customize, but the level of flexibility is going to be very limited compared to downloaded / purchased carts that you run on your own web server. Remotely hosted carts are quite good these days and offer most of the customization that you would want, as well as some beautiful looking modern themes that can be very appealing to customers. Many hosted carts offer free trials so you can test them out and see if they offer the level of customization that you require.
Another significant consideration is that you are likely to incur an ongoing cost as opposed to the one time fee of a locally hosted cart. Over the long term, this can make a remotely hosted cart relatively expensive vs. locally hosted carts. Although the subscription model of most remotely hosted carts does increase the cost, when you consider how all of the technical details are taken care of for you it means that you don't have to pay someone to handle shopping cart problems or waste your own precious time doing it. This is an important consideration and can make the monthly cost of a hosted cart easier to digest. Regardless, you can expect the aggregate cost over the long term to be higher using a remotely hosted cart than if you purchase a locally hosted cart outright and host it on your own website.
In a nutshell:
Relatively expensive ongoing monthly fees, most remotely hosted carts lack deep customization and flexibility when compared to locally hosted carts.
Locally Hosted
Pros:
The best thing about locally hosted shopping carts is that they are often less expensive to operate in the long term (and in some cases are completely free). They also generally offer you maximum customization and flexibility which is something that both large organizations and finicky SME's find very appealing. If you want full control over every aspect of the cart and its functionality then a locally hosted cart is what you are going to want.
In a nutshell:
Low ongoing cost and high degree of customization
Cons:
The biggest cons of locally hosted shopping carts are maintenance, and upfront costs. It's true that many locally hosted carts are purchased outright, and if operated for a period of years is almost certainly going to save money when compared to a remotely hosted cart. However, most good locally hosted carts (free ones aside) have a purchase cost of at least a few hundred dollars. Most locally hosted carts are affordable and will not break the bank by any means. However, remotely hosted carts don't have a large upfront cost, which can make them less expensive in the short term.
It's important not to overlook the maintenance aspect as well. You have to take full responsibility of the cart and it's security and patches to keep it up to date and working properly. If you aren't paying a monthly fee for the cart service, you are generally on your own when you run into problems with the shopping cart software. If you can't fix the problems on your own then, and don't have technical staff on hand to deal with it, then you can incur costs when finding a web developer to look after your cart software.
In a nutshell:
Potential for high upfront cost, potentially more complex to setup, potential need for custom programming / web development if you want to get under the hood and tinker with the cart.
Recommendations
Remotely hosted carts are often the best option for small business owners who are not technically savvy. They are a little more costly in the long run, but are super easy to setup and use effectively compared to some locally hosted carts. One of the biggest reasons for small business owners to use a remotely hosted cart is that maintenance and update are all taken care of, not to mention that if the shopping cart software is handling the cardholder data PCI compliance is generally much easier to achieve.
If you are technically savvy and flexibility is important, a locally hosted shopping cart may be a better fit, and also offer the advantage of saving a fair amount of money over the long run in comparison to using a remotely hosted shopping cart.
What else differentiates one cart different from another?
In a word: features. Now that you have decided whether you want to use a locally hosted or remotely hosted shopping cart, the next step is to figure out what features you want your shopping cart to have.
While virtually all carts allow the customer to browse and select products, calculate tax, shipping, and facilitate the payment, there are many secondary features to consider. As a business owner, you should make a list of the advanced features or functions that you want so that you can narrow down your list of potential carts.
For example, do you require recurring billing? This is a feature that some carts support but many others do not. If you must have this feature you can immediately narrow a long list down to a very short list based on this single criteria alone. Do you need shipping integration with specific carriers like Canada Post or FedEx? If so you can further narrow down your list based on carts that support these shipping features.
Other features you may want to consider are: support for digital downloads (automatically giving the customer access to something on a successful purchase), SEO functionality (critical if search engine optimization is a significant part of your business plan), limited time sales, fulfillment center integration, Facebook integration, mailing list support, cart abandonment features, product reviews, analytics, inventory management, accounting software integration, etc.
Once you have established your list of must-have features, it's time to start comparing feature lists of shopping cart candidates to see which ones will meet your needs. If you can't find a certain feature that you require listed on the shopping cart providers website that doesn't necessarily mean that the cart does not support it. With all of the features that modern cart software support, some shopping cart providers do a poor job promoting all the features that their software offers. If you can't find the information on the shopping cart providers website, I highly recommend contacting them to inquire whether the cart can support the features that you are looking for. This actually serves a few different purposes:
1. It gives you a definitive answer whether the cart will meet your needs in terms of features offered.
2. It gives you an idea of the responsiveness of their customer service. If they take a long time to respond to your email, it could be a sign that they won't provide the most timely support further down the line when you may need it most.
3. Sometimes they will not only answer your questions for you, but if you don't sign up for an account right away, they may contact you a few days later offering special discounts that are not advertised on their website.
Many shopping cart providers offer free trials. It's a good idea to try the software out if they offer a free trial, and if they don't advertise free trials on their website, it doesn't hurt to email or call and ask for one.
Do you like it?
It's surprising how many business owners and administrators outsource the selection of a shopping cart software to the technical people. More specifically, to technical people who have no role or involvement in the day to day administration of the online store.
Choosing a shopping cart is about more than making certain it satisfies a list of required features. You have to be able to use it, day in, day out, for months and years ahead. You should make certain that your accountant finds the reporting within the shopping cart easy to work with. Are you purchasing a cart with inventory management? Make sure the folks in your warehouse find it useful. A shopping cart can have multiple touchpoints into different areas of a business. Where possible, try to get feedback from all of the people that will be using the cart. Whenever possible, you should have a list of at least 3 potential carts and try them all before picking one and cementing your decision.
Customer support
Support is extremely important. The level of customer support you get from shopping cart providers can vary widely. Some shopping carts give no support at all, some only offer email support, some offer phone support during business hours, some offer 24/7 phone support. It's up to you to decide what level of support you think you'll need and make sure the cart you choose matches your needs. Even with this in mind, it doesn't make any difference if your cart offers 24/7 phone support if the agents aren't knowledgeable, or if response timeframes are slow. When picking a potential cart it's never a bad idea to call in for support just to see how long the queue is, and ask a few basic questions. If the experience is bad, don't expect it to get better after you start paying fees.
The most support intensive phase is at the beginning when setting up your cart initially. Once things are up and running things generally tend to work quite reliably until you start making changes. You will likely find that the level of support offered by the shopping cart is closely tied to the price you pay. Although not always the case, it's a fair generalization that less expensive carts will have less resource available for support, which can be reflected in customer response times and overall customer service. That's not to say that affordable carts don't offer good support. There are excellent affordable carts, with excellent support. I point this out because it is shocking how many merchants just do not value support... until the moment they finally need it.
Pricing
As mentioned above, pricing is important to consider but there are a great many other factors that must be weighted before making a decision.
Your shopping cart is your interface through to your customers. It reflects your business, your brand, and is the face of your online personality. You don't want to handicap your online store by using a cheap cart that is lacking in important sales and marketing features just to save a few dollars per month.
The old adage "you have to spend money to make money" can be applied. I'm not saying that inexpensive carts are bad and all expensive carts are good, as this is certainly not the case. To be clear, I'm saying that its not worth abandoning important features that could legitimately help the business just to save some money on the cart. We have had many small merchants over the years start with free open source carts and move to paid platforms over time.
If the features work well, they will help you to drive more sales and generate revenue that will more than cover the extra cost of the cart software. Selecting a good shopping cart is one of the most crucial factors when running a successful ecommerce business. It can be tempting to go with a very basic cheap cart, but if a poor cart implementation ends up not converting customers as efficiently as a more expensive cart could have, in the end it will cost much more than any savings realized on the cart software itself.
Conclusion
Choosing the right shopping cart can be an intimidating decision. It may seem complicated but by utilizing the advice discussed herein you can whittle down the options until you have chosen an excellent cart platform for your business.
It's also worth noting that your merchant account provider should be more than willing to help you choose a good shopping cart platform. At Merchant Accounts.ca, our policy is never to earn referral fees from any of our cart partners. By staying impartial we are able to genuinely put our clients needs upfront, and do our best to help them pick the best shopping cart for their unique situation. If you already have a merchant account and are currently processing credit cards, ask your merchant account provider for help. They should be more than willing to help you out. As a last note on this, if you are with a traditional merchant account provider that specializes in POS type transactions, you may find the support you receive is fairly limited when it comes to e-commerce related inquiries. If that's the case don't hesitate go contact us or another e-commerce specific merchant account provider. Choosing a cart is a very important decision, and you should be supported on all sides: the merchant account provider, the payment gateway, and the shopping cart provider.
Learn How To Lower Your Credit Card Processing Fees
If you haven't reviewed your processing costs in a while take a moment to view our rates.
View Rates