Home > News and Blog
March 12, 2019
by
David Goodale
Shopping Cart Roundup: ShopFactory
Picking a shopping cart must always start with an examination of the requirements of your project. It also requires an honest analysis of the administrative and technical skill available within your organization. Once you know that your team can use and administrate it effectively, you can assess how the cart functions whether it will address your business needs.
There is no point in selecting a shopping cart that does everything you need, if you don't have the skill or expertise to operate it. Coders at heart may want a shopping cart platform which will provide the ultimate in technical flexibility and features. Less technical users, or those wanting something quicker to deploy will probably prefer something quick, easy, and a simple graphical administrative interface.
In short, picking a cart is a very important choice. It must reflect your requirements, and your ability to administrate it. You don't want to make the wrong choice because you are likely going to live with what you choose for a long time. Surprisingly, many business owners flock to a relatively small pool of shopping cart platforms. E-commerce software is definitely not "one size fits all". The goal of our shopping cart roundup series is to explore different shopping cart software options to help you easily whittle down the options to find the best potential carts your project.
With that in mind, for our first outing we are doing a guided tour of ShopFactory, which is a long established content management and shopping cart platform.
ShopFactory: A shopping cart and CMS built for windows users.
ShopFactory has been around since 1995. In e-commerce years, that is ancient. Needless to say, this is an application that has gone through many different iterations and significant updates over the years. The current version of ShopFactory has been out for about 2 years, and receives frequent updates and patches based on requests from the user community.
It is administrated through a windows based program that is installed on your local computer. All of the assets and software run locally. The software is not just meant for e-commerce based businesses. It's actually a full-fledged website building platform targeted towards users who wish to use a CMS to build and quickly maintain their website.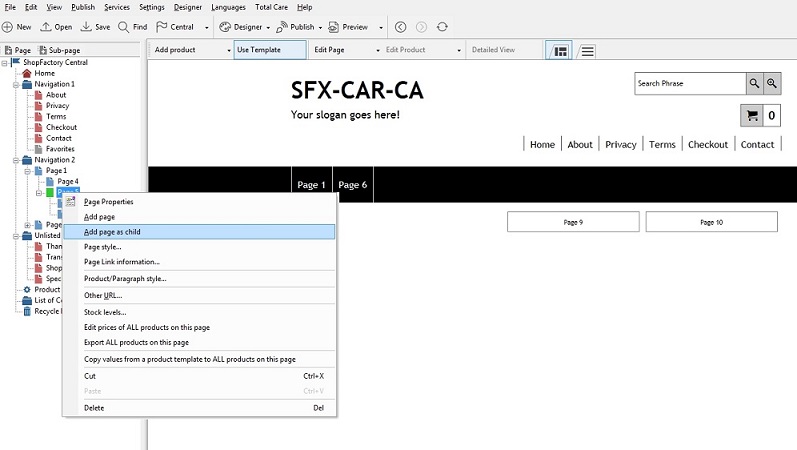 Interestingly, most types of "easy to use" ecommerce platforms are often remotely hosted (such as BigCommerce or Shopify). This means that the assets of your website (your images, content, etc) are not under your own physical control, but are hosted (and controlled) remotely by the service provider. That is not the case with ShopFactory, in which all of the content is managed locally on your own PC, and can be uploaded to a web server of your choice. This means that you have complete control and ownership of all the content and files that are generated for your website when using the ShopFactory platform. This gives greater control than is common with most web based CMS platforms. Once published, the website files will still reference the ShopFactory servers when using some of the e-commerce functions (for example the order validation and approval emails that go out to customers). Nevertheless, it's nice to have your hands (true ownership) of the website content generated by the ShopFactory platform. If also means that you are able to move web hosts, because you have all the assets and can upload them to any server that you see fit.
Server Requirements
ShopFactory can be installed on any webserver. It runs on HTML, CSS and Javascript, which means it can be installed on both Linux and Windows based server environments.
The order capture pages are hosted remotely by ShopFactory, which is beneficial because it should push some of the PCI issues out of scope since the actual cardholder details are being handled by ShopFactory. (But confirm this with ShopFactory or your credit card processor before going live to be sure!). The folks at ShopFactory have also stated that this assists with GDPR Requirements, which are taken care of because their systems handle the order data, while you own the content and web assets that compose your website. It's an interesting and unique structure that is not too common across other e-commerce platforms.
Building Your Online Store: Design and Customization
Start by creating a new website project.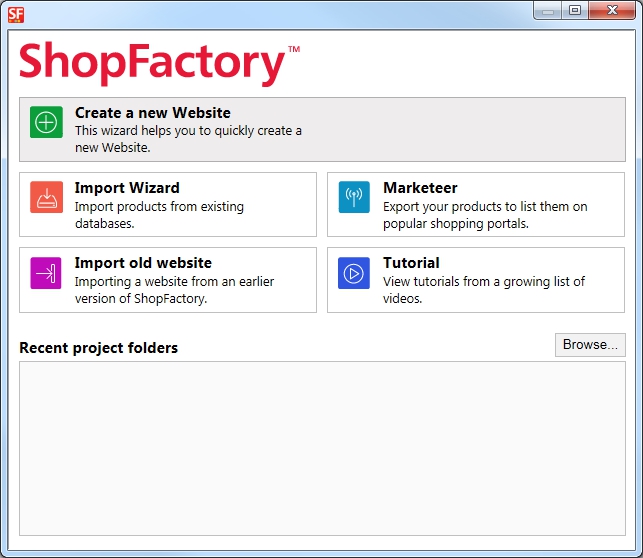 Pick a theme right afterward. There are about 30 to 40 themes that are fully customizable. All the themes are included for free.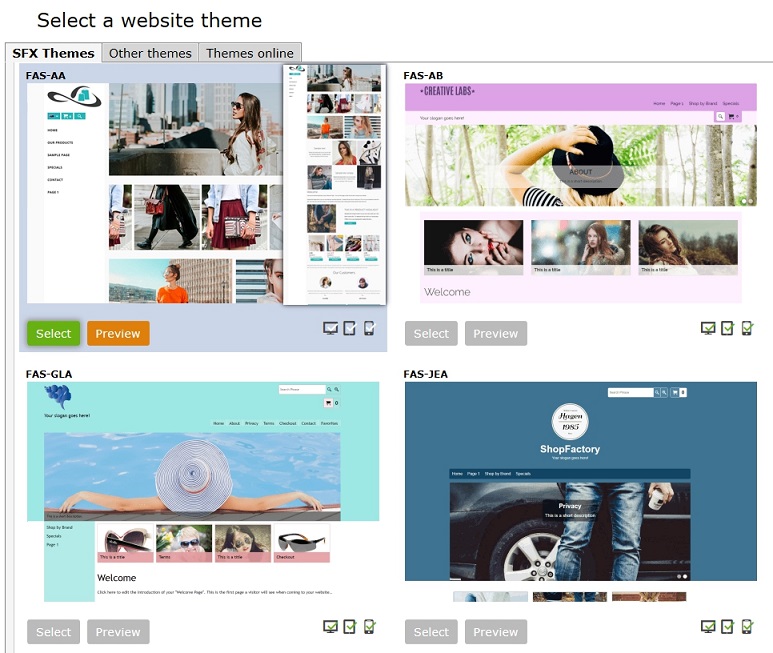 Each theme is responsive and renders on both mobile and desktop devices. Once you have selected a theme, you can begin to build out your links and navigation. Editing the navigation is quite easy. Right click and can see the navigation structure, and re-order the navigation, including creating sub menus very easily.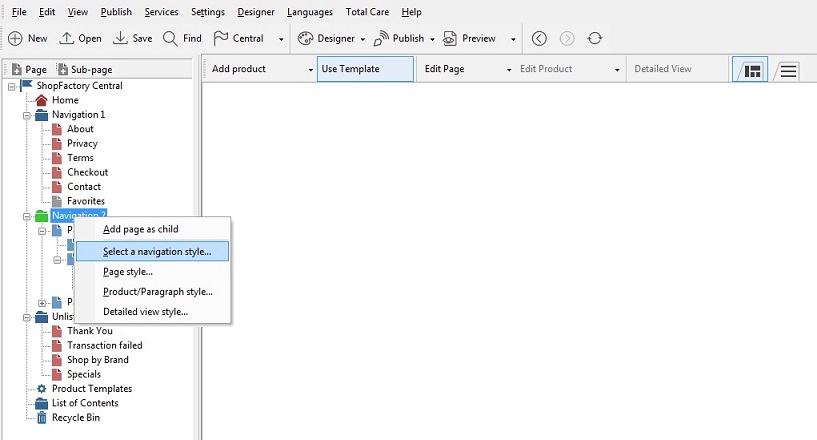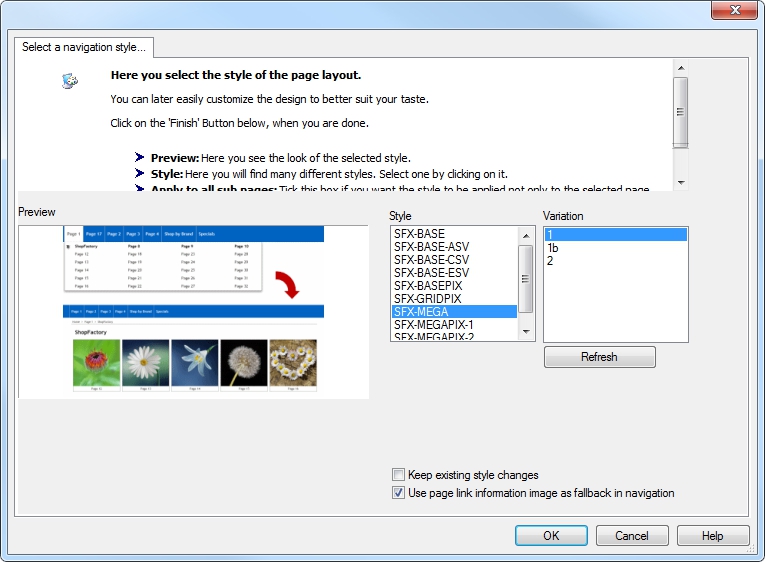 Inserting content into the page is done using ShopFactory Blocks, which makes it easy to layout out elements on the page easy.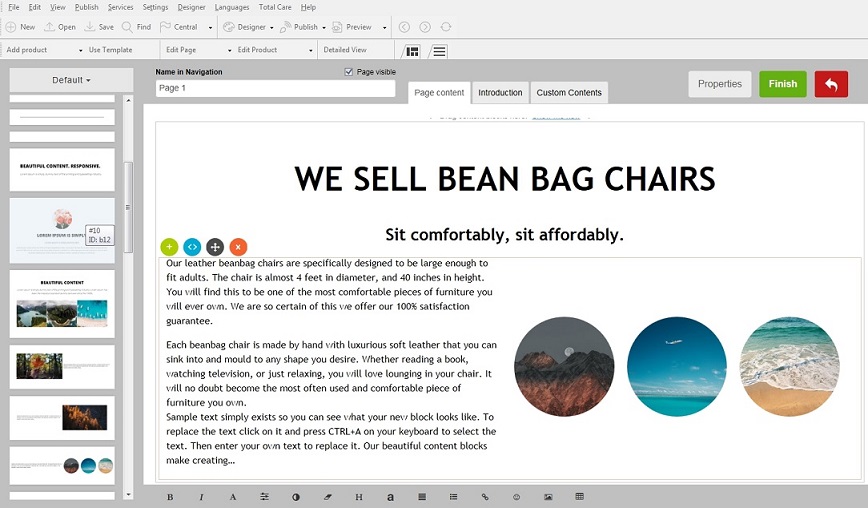 Each block element has an "edit HTML" option in which you can edit the html or css content of that block. You can also copy that and create an empty block which you can use to either modify a block design, or come up a completely design.
You can use the preformatted ShopFactory block elements, or custom design them within the page.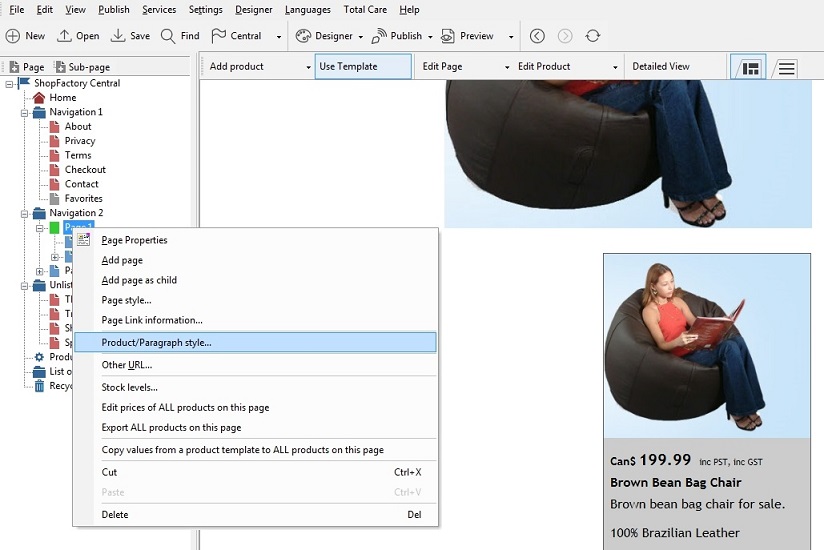 Shipping Logic
ShopFactory has several shipping logic options. You can ship based on weight, on quantity, and feed it into real time shipping algorithms from Fedex, UPS, DHL, and Canada Post for real time shipping. Additional real time shipping integrations are available in other regions.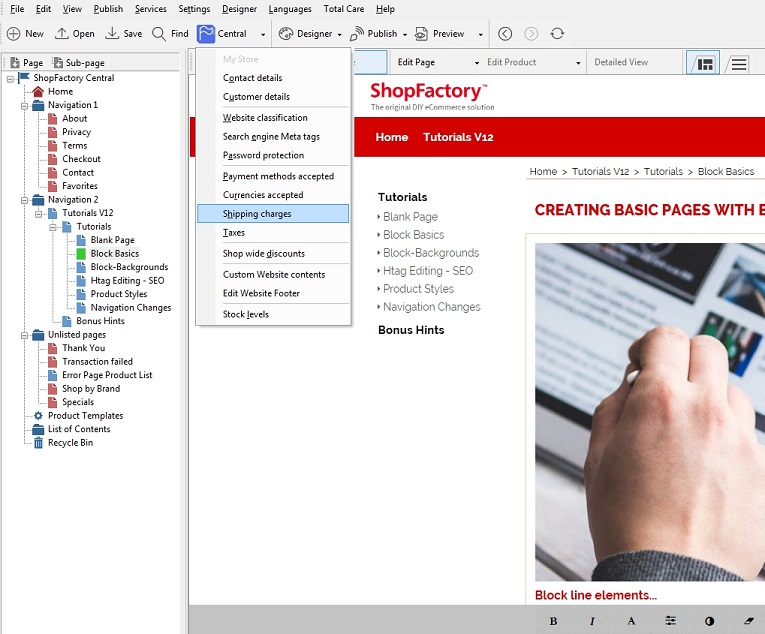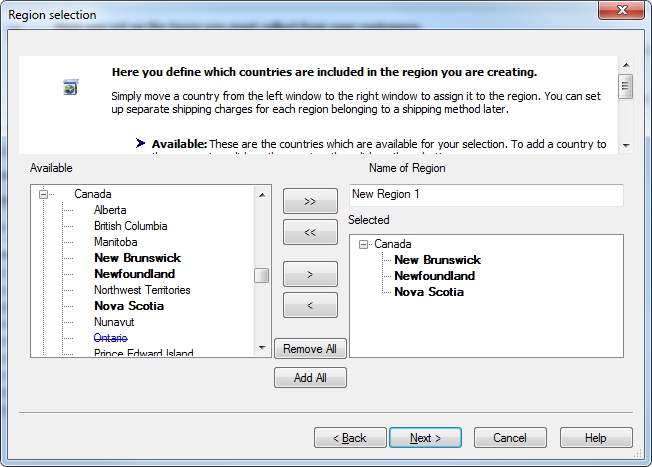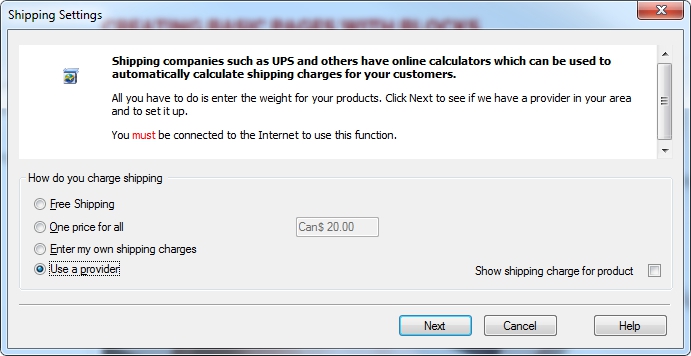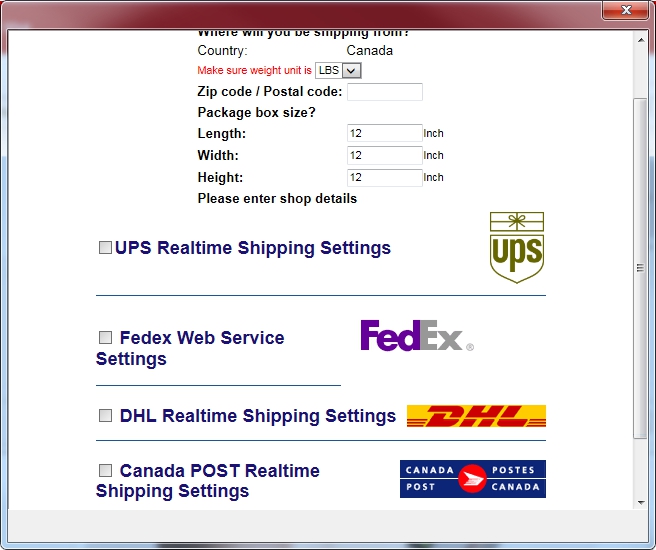 Tax Logic
ShopFactory has full tax logic functionality, including the ability to reconfigure settings as tax requirements change for each region. The software comes pre-configured out of the box to support:
GST/HST in Canada
VAT in the UK
Sales tax in the USA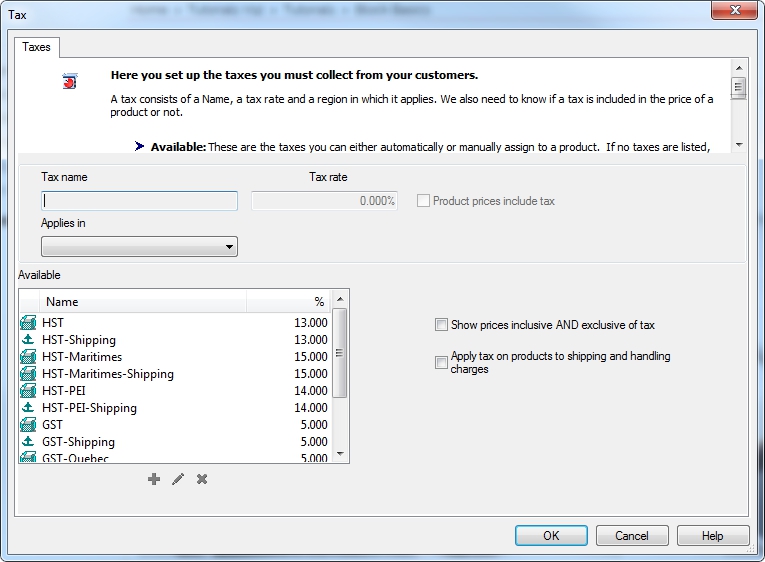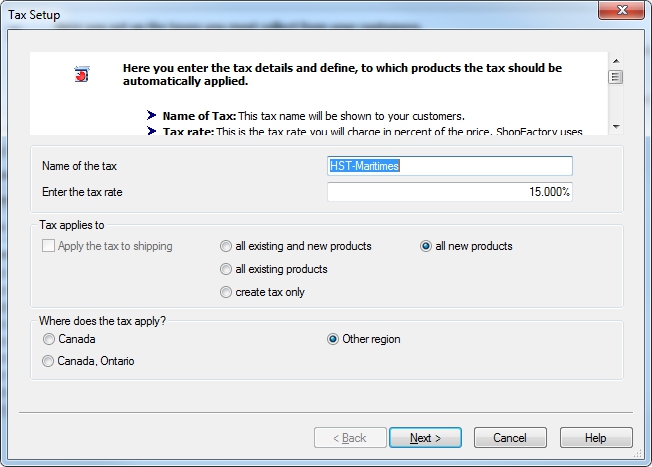 Multi-Currency
ShopFactory is a true multi-currency capable cart that will allow transactions to be routed to different processors, based upon the payment currency.
Products within the shopping cart are set based upon the master currency. For example, you could choose to set USD as the master currency for your store. If a customer located in another region visits the site, you have the option to price in the local currency of that foreign shopper. The location of the user is determined by the users IP address.
For example, if a customer in the UK visited the website, the shopping cart will convert the display price from USD to GBP. The calculation is done in real time using an online currency lookup, so that the amount shown to the shopper can be displayed to the shopper in their local currency.
Anyone from any other another region will see the price in the default currency of the store. You can configure as many currencies as you wish to support.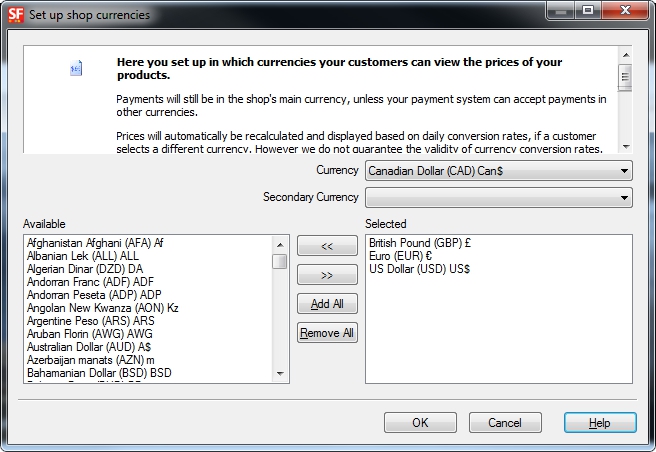 Compatible Payment Gateways
ShopFactory supports quite a large number of payment gateway options.
As described above, one important and unique aspect is that you can configure it to use different payment gateway / payment processor configurations based on different payment currencies. This is rare functionality that is hard to find in most off-the-shelf shopping cart platforms. This makes ShopFactory a good fit for internationally focused merchants. It's an often missing feature in many shopping carts, so it's nice to see it included here.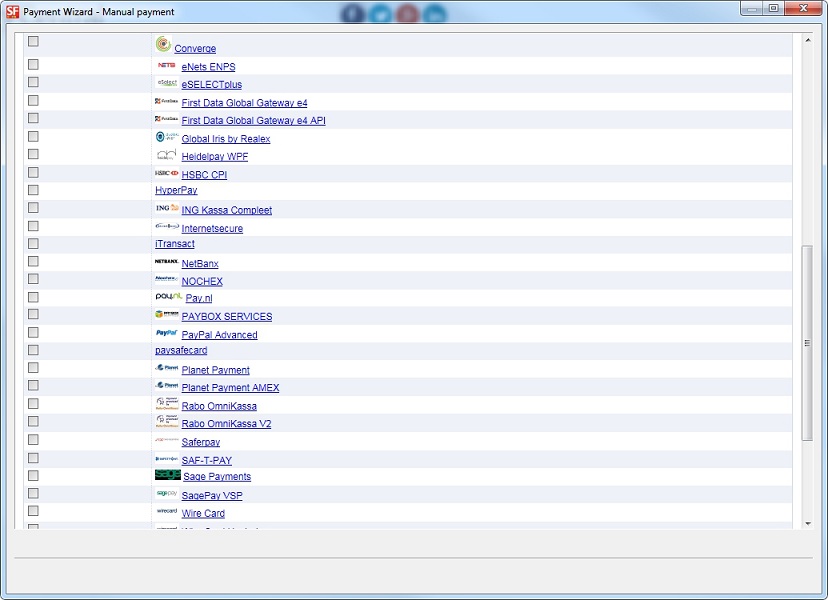 Multi-Language Shop Support
ShopFactory provides multi-language support. It can be configured to automatically detect the language of the website visitors PC, and set the site language used on the site accordingly.
Base language content can be inserted, and alternate languages can be built out within the side by side visual editor. When your website is generated ShopFactory will create a version of the website in each of the secondary languages, along with the mobile versions. This makes it a particularly good choice for businesses that are targeted customers in multiple countries, or for businesses in Canada that want to target both English and French speaking customers.
Custom Functions
Since all assets (pages) are generated on your PC, it means you can customize your website in any conceivable way. It has pre-built support for popular libraries such as Google Analytics and Facebook Pixel.
You can also install custom javascripts. However, since ShopFactory uses javascript extensively, you would need to test any customizations done to make sure that it does not interfere with any of the functions of ShopFactory.
Pricing and Optional Services - ShopFactory Cloud
ShopFactory has several different pricing options, including a monthly subscription or an option to purchase and own outright, with no ongoing fees. The one time purchase options allow you to select between Pro ($597) and Gold ($1,055) at the time of writing. However, it also offers cloud hosted additional services with the Pro ($39/month) and Gold ($63/month) at time of writing.
The cloud hosted version of the service is not necessary. It is fully e-commerce functional out of the box. However, if you require special features, especially functions that you want to occur automatically after a transaction is completed, you will require the cloud service. For example, there are some features such as vouchers, coupons, and inventory tracking, all of which would that would utilize the cloud based features.
Anything custom that must happen after a transaction is processed (other than the default shopper receipt) will require the cloud based version. A more technical way to think of it any post-transaction (after approval) action that that must occur which would normally require database interaction will require the cloud hosted version.
Advantages to ShopFactory
ShopFactory is the type of platform that is going to strongly appeal to some users, particularly those looking for a web-builder type system, but without an ongoing recurring subscription fee. It's also a good fit for merchants that want a high degree of control.
All assets for the website are generated and available locally on your computer, so you will have a backup of all the pages you generated.
You can customize the page to add your own custom scripts or functions.
There are no ongoing fees or costs (unless you choose the cloud hosted version)
Provides a flexible GUI that will let you build deep websites, with a great degree of control over the menu structure and layout.
You get a degree more portability when compared to some remotely hosted shopping cart platforms. You can move your website to a new web host easily by simply uploading your files to a new web host at any time. (However, you will always rely on ShopFactory to handle the e-commerce checkout portions, which is included at no charge when you purchase the software).
Strong multi-currency functionality, including the ability to route transactions to different payment processors based upon the payment currency of the shopper.
Drawbacks to ShopFactory
Learning a new platform always involves work effort. Learning the GUI, no matter how well designed, will take some time in order to learn and understand.
If you are a web developer and are looking for something that's specifically meant for web developers you not find the GUI web builder helpful, and in fact could find it a hindrance if you want to work in pure code.
It is only available to PC users, and is not an option if your business operates in an Apple based environment.
You will require a subscription to the cloud based service for some post-approval processes such as coupons and vouchers.
You will need to source your own web hosting platform, which can either be seen as an advantage or a disadvantage, depending on your personal preferences.
Conclusion
ShopFactory is an interesting shopping cart option because it straddles a lot of boundaries.
It utilizes a GUI driven website builder, it's easy to create a good looking website using one of the modern themes (like many remotely hosted shopping cart platforms). However, it also provides the option of purchasing the software outright which means no ongoing fees, something that is rare to find in most e-commerce website building platforms.
In a way, it gives you the easy of construction of some online web-builders (such as Big Commerce), but the control of a locally hosted cart (such as Magento). In fairness though, Magento gives you a framework for modification, whereas ShopFactory is an open slate because the code is sitting on your own server. This leaves you essentially on your own with no support or framework for custom features, but also few if any limitations. This is another area that is either an advantage, or disadvantage, depending on your personal preferences and how you look at it.
ShopFactory has a learning curve to using the GUI. However, the learning curve is far easier than learning HTML or CSS. It's definitely easier to install than a traditional locally hosted cart such as Magneto, because it's purely CSS and JavaScript driven. As a result it isn't so much of an install as a simple upload of the files and then it should begin working immediately.
It's impossible to say if it's the right option for your business without trying it out. However, if you want a Content Management System with built in e-commerce functionality, and you want to have a good degree of control over your website without needing to custom code the entire website, it is strongly worth a good look.
---
Need professional guidance?
Contact us for a free one hour consultation.
---
Can I Help Lower Your Processing Fees?
If you found this content helpful, will you give me the opportunity to quote on your business?
View Rates